3 for free shippingBath Storage Pet Shower Brush・Heart-shaped Pet Massage Bath Cup・Pet Bathing Cup
why choose us?
a local seller・fast delivery・$18.8(3 pieces)?for free shipping on Qxpress・
all of our product are from?trusted supplier.
We provide the best pre-sale and after sale service
please feel free to contact us for any of your question

3 for free shipping・Bath Storage Pet Shower Brush・Heart-shaped Pet Massage Bath Cup・Pet Bathing Cup

Clean and convenient:Environmental protection materials・ good elasticity and flexibility・ no bisphenol・ soft silicone・ no damage to the skin・ clean conveniently;In addition to foam evenly・ avoid the trouble of hand foam・ bathing can also help love pet to a simple and comfortable SPA

Soft and comfortable: A soft brush made of silicone can be removed from the hair until it reaches the skin;A gentle silicone brush will help remove dirt and mud from the dog's paws better;

Simple assembly and disassembly: It comes with a bath storage box. The main cover is unscrewed and the suitable bath can be filled. When cleaning・ the top is pressed and the liquid will flow out along the silicone brush.

How to use: Add water and shower gel to the cup・ press the soft cover above・ shower water can leak directly with the massage brush and then massage clean for the pet; suitable for pet body cleaning;

Pet bath artifact can add shower gel ・soft silicone ・comfortable touch;Let your pet enjoy shower and massage at the same time.They will love bathing from now on. We hope this pet bathing tool will satify you・if you have any problem・please contact us.
4 reasons to choose us
?
1. Easy to use?
Wash with water・ convenient and easy to clean?
2.Soft and gentle?
The footbath has an array of soft silicone brushes that are both soft and thick?
3. Rubber material?
Non-toxic・ environmentally friendly・ resilient and resilient?
4. Quality assurance?
Strict quality inspection can be used with confidence?



‐Benefits/
?
1. Easy to use: use hand wash liquid directly・ convenient and easy to flush?
2. Soft and gentle: There are many soft silicone brush in the footbath・ which is soft?
and clean?
3. Silicone material: non-toxic and environmentally friendly・ good elasticity・ easy to clean?
Bath fun
?
Every owner will have trouble with the problem of bathing a dog may be as irritating?
as that of a child. The pet owner can give a good bathing brush to the dog to make?
him happy. He must enjoy a massage while taking a bath.So a good brush is very important!?
Product Information:
?
Product Name: bath storage bath brush?
Applicable colors: blue・ pink・ green?
Product Specifications: Length 11cm*Width 6.5cm?
Product material: new environmentally friendly rubber material・ brush made of?
silicone?
Product features: non-toxic environmental protection・ elasticity and toughness are?
good・ high temperature・ low temperature・ non-oil・ easy to clean.?
Product weight: 120g?
How to use: 1. Open the cover of the brush 2. Pour into the bath solution 3. Pour water into it 4. Tighten the lid 5. Shake up and down to shake the water and shower gel 6. Press the foam to shower the baby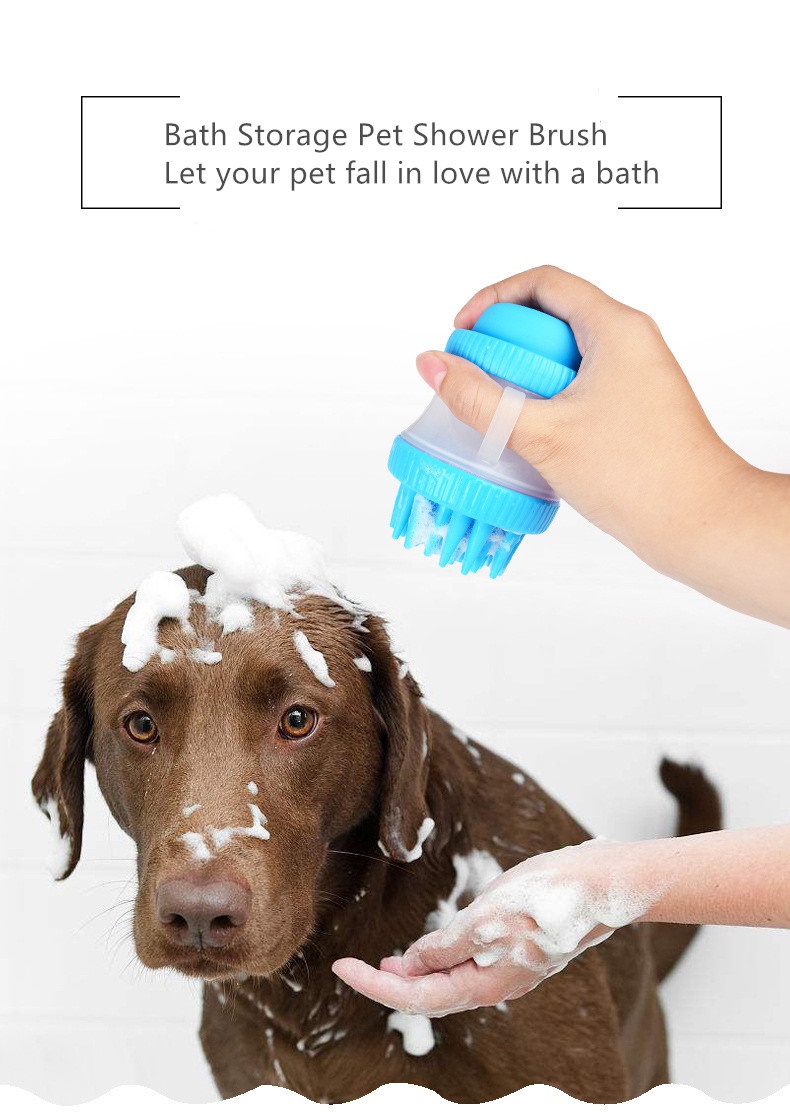 Dear Customers:In order to receive your parcel fast・ you will need to complete order process and payment made before 4pm (Monday - Friday)・ and delivery by Qxpress (with tracking available)


Orders placed on Saturday or eve public holidays would likely be processed the following business day.

==================================

Important notes to customer:??Encourage to write?a feedback review to share?of product quality・ product size・ servicing quality and buying experience... etc ・ these can help other buyers to decide &?select size that better fit to them・and ?most importantly is to let?us?to improve our services/product?quality・ this will help us to decide and bring in more?product variety ..?????Thanks !